1/11
An elegant pool which is a symbol of The Mulia
Jl. Raya Nusa Dua Selatan Kawasan Sawangan Nusa Dua, Benoa, Kec. Kuta Sel., Kabupaten Badung, Bali 80363 - The Mulia - Nusa Dua, Bali
Hotel Meister Recommend
Retreat Atmosphere


Hotel Introduction
The best luxury hotel brand in the Mulia group. Located along the beautiful Nusa Dua beach, the detailed architectural design and layout of The Mulia suites are able to provide relaxing sensation and perfect combination of space. Beach front suite and Lagoon Suite overlooking the beautiful white sands of Nusa Dua beach, complete lounge facilities, swimming pool by the sea, private Jacuzzi and washlet in all rooms are the best luxury in all 111 suites, luxury perfect with natural environment of The Mulia hotel is suitable for those who want to have a peace of mind in a natural environment, as all our services will satisfy you. 24 hour butler service is available. Enjoy your luxurious moments with personal services at the Nusa Dua beachfront resort.
Kura-Kura Hotel provide hotel with benefit for those who want to find hotels in Nusa Dua area and help for hotel reservation including The Mulia.
Most Popular Facilities
Japanese Staff

Souvenir Shop

Swimming Pool

WiFi connection

Fitness/GYM

Cafe Restaurant

Kids Club

Beauty Spa
Hotel Meister Features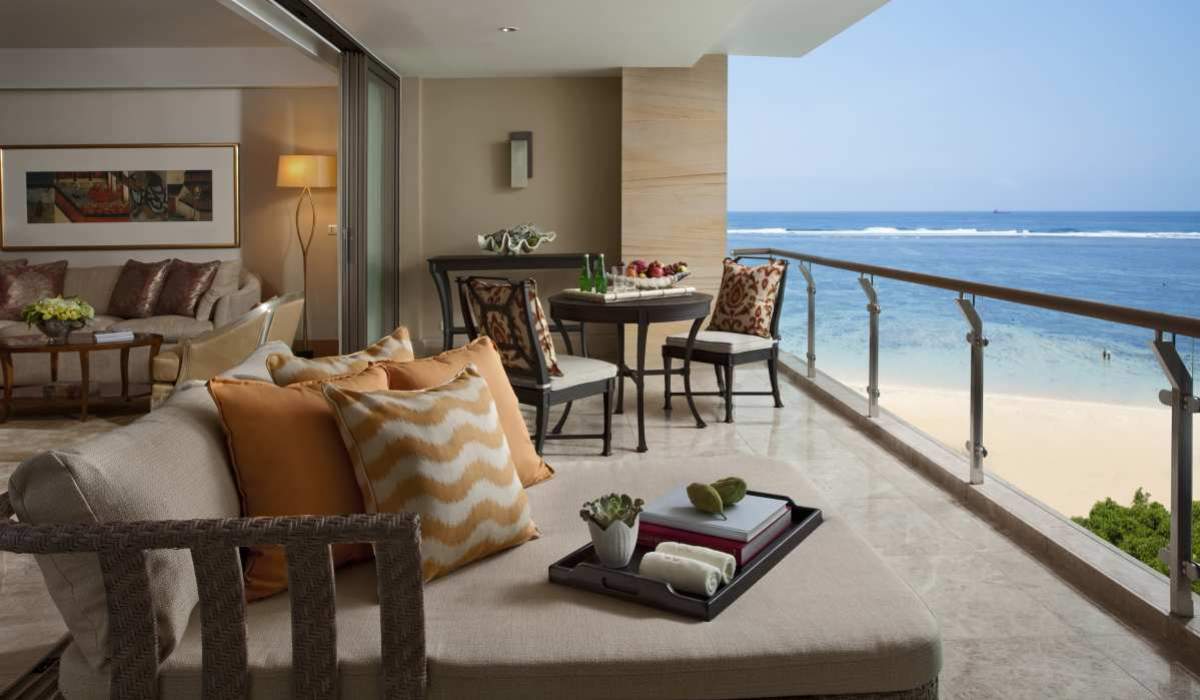 Pursue the highest level thoroughly
High quality linens with fabric density that exceeds the standards of world famous luxury hotels, private Jacuzzis and washlets in all rooms, is the highest search going on anywhere. Enjoy your elegant time with champagne and cocktails, private jacuzzi available on the balcony.
---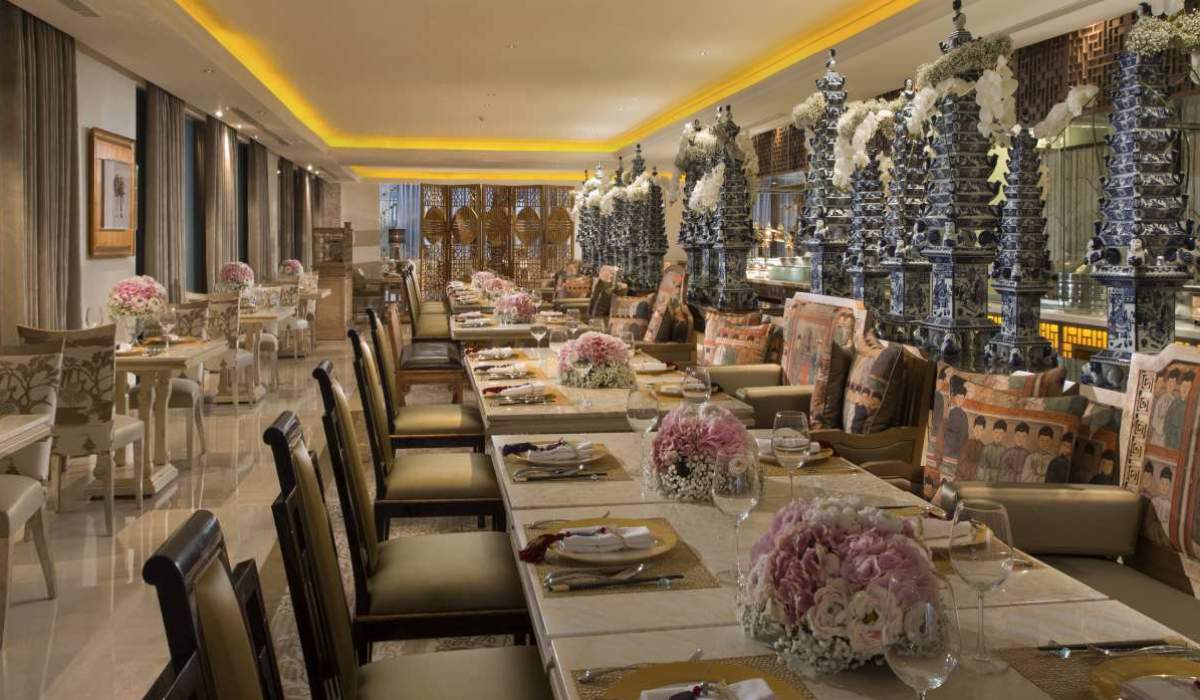 Search for food.
At the resort restaurant, you can enjoy the cuisine of the chefs who have worked at Michelin Star restaurants around the world.
---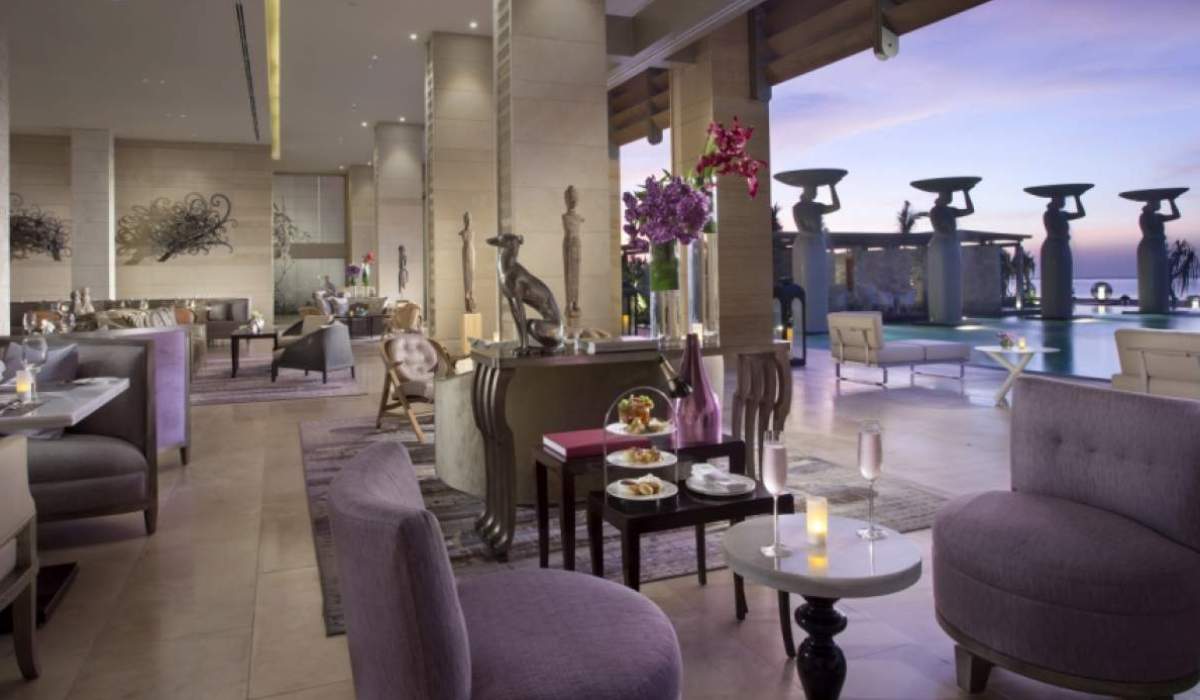 『 The Lounge 』A special room for in-house guests.
The Lounge is a library, a lounge with a chic interior also serves as a dining room specifically for guests staying at The Mulia and Mulia Villas. Besides The Lounge, you can also enjoy buffet breakfast at The Cafe Mulia Resort, or alacarte menu in Mulia Villas living room. You can enjoy your stay without getting bored, no matter how many nights you stay. The swimming pool and sea views are like paradise, specially reserved for guests of The Mulia and Mulia Villas.
Room Reservation
Please select number of rooms from room list
The Mulia - Nusa Dua, Bali - Nusa Dua Offer
Restaurant Information
《THE CAFE》 International Cuisine
Serves breakfast, lunch and dinner in buffet style. You can enjoy variety of popular dishes from various countries, from fresh sashimi and sushi in Japan corner, duck and pork roasted in China corner, Thai salad with a rich taste of Tom Yum Kung in Southeast Asian corner, butter chicken and naan in Indian corner, Pasta in the West Corner.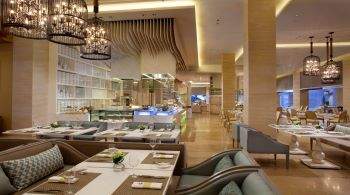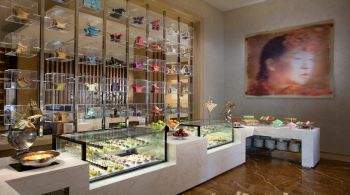 《Table 8》 Chinese cuisine
Reminiscent of a Chinese royal palace interior, a dining room with a series of porcelain pagodas, attractive furnishings, works of art reminiscent of the era of the ancient Chinese dynasty. You can enjoy a variety of traditional Chinese dishes including Cantonese dim sum and Szechuan cuisine.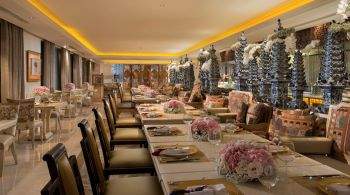 《EDOGIN》 Japanese cuisine

Provides buffet dinner every Thursday to Sunday, with a wide variety of menus including teppanyaki, tempura, sushi and sashimi. Enjoy the a la carte menu along with a wide selection of high quality sake, Japanese tea and international wines.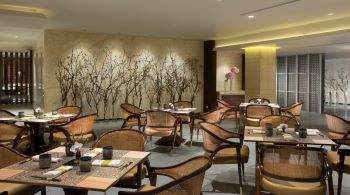 《SOLEIL》 Mediterranean cuisine
Experience our signature beachfront dining venue. Catch the legendary Bali sunset as you indulge in our expansive menu with Mediterranean and Pan Asian flavours for dinner. Recognized by TripAdvisor and Architectural Digest as one of The Best Restaurants and Most Luxurious Brunch in the World.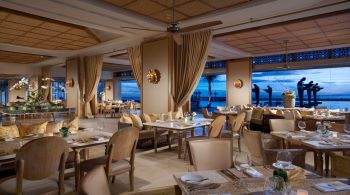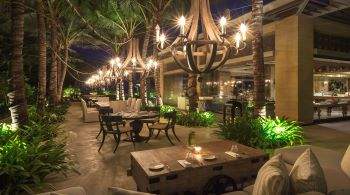 《ZJ's BAR》
Enjoy the nightclub atmosphere at ZJ's with elegant and comfortable, consisting of two contemporary outdoor tropical seating areas.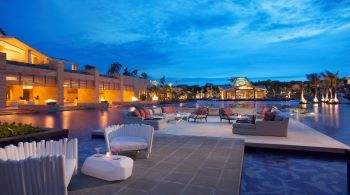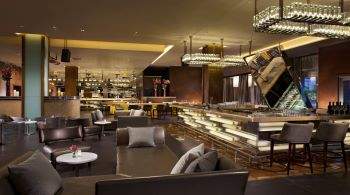 《SKY BAR》

A beachview open bar. Enjoy light snacks and delicious tapas along with original cocktails, wines and other spirits.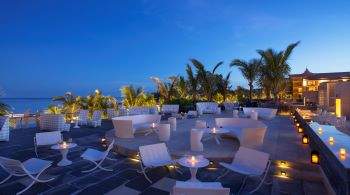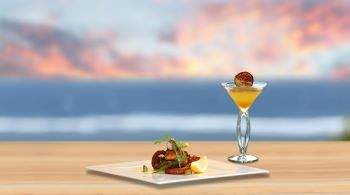 《MULIA DELI》

There are various kinds of cakes that captivate the hearts of sweet cake lovers! Enjoy snacks such as sandwiches, Danish pastries with delicious coffee and tea.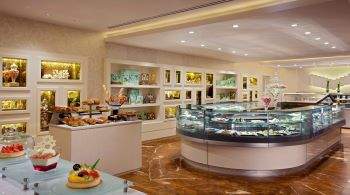 《CASCADE LOUNGE》

The lounge, with its enchanting glass tables, high-quality rugs and furnishings, draw guests into the lively lobby, where you can relax in a serene setting.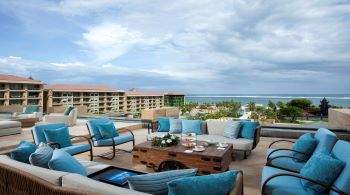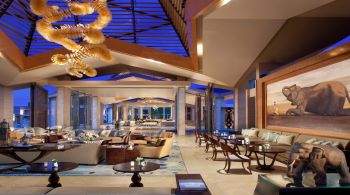 Spa Information
《MULIA SPA》

Our facilities include twenty well-appointed treatment rooms, a state of the art wellness area comprising Finnish saunas, Meditative Steam Rooms, Ice Rooms, Hot and Cold Hydrotherapy Pools, hammam stand facilities. The use of Chromotherapy and Aromatherapy system further enhances the facilities' existing stellar therapeutic properties.