1/11
Luxurious feeling, seems the coconut fruits can be reached
Jl. Raya Sayan No.29, Sayan, Kecamatan Ubud, Kabupaten Gianyar, Bali 80571 - Four Seasons Resort Bali at Sayan
Retreat Atmosphere



Free Wifi

Avg. Download Speed

20Mbps
Hotel Introduction
Four Seasons Resort Sayan encapsulates Bali at its philosophical and soulful best: a sublime hillside haven where man, humanity and nature unite with purest intent. Only a ten-minute drive from the stylish boutiques, artist ateliers and atmospheric eateries of boho-chic Ubud, Four Seasons Sayan is an inspiring base from which to explore Bali's cultural heart or to retreat into nature's meditative embrace.
Arrive via a dramatic bridge, beneath which the Ayung River valley spreads its tropical arms. Descend from the gravity-defying rooftop lotus pond to the two-tiered swimming pool, cantilevered over the river, through an enchanting forest that cocoons just 60 suites and villas. Choose from secluded treetop accommodations or riverside sanctuaries – all ultra-comfortable and authentically Balinese, furnished with traditional ikat fabrics, antique furnishings and Indonesian artefacts.
Retreat to The Sacred River Spa and discover the power and presence of your own life force. Restore the subtle inner energies with Chakra Ceremonies and river stone massages. Release technology-induced stresses with yoga and meditation in the lotus petal Dharma Shanti Bale. And explore the higher levels of wellbeing with Resident Wellness Mentors and Healing Arts Practitioners.
Trek inland to the villages at the heart of the local community. Savour the simplicity of rice planting with local farmers. Dine on elaborate home-style Indonesian 'Rijsttafel' at Ayung Terrace or revel in the romance of a stargazing dinner, high above the valley. Whether you choose to immerse and explore, or retreat and simply 'be', prepare to submit body and mind to Sayan's soulful soothing – and fall back in love with life and living.
A forestry resort located along the Ayung Valley and is surrounded by greenery in Ubud. Chantilbert's Dharma lotus pond floating in the air, stepping towards the resort with a rugged sound. You can feel the essence of hotel through the beauty of the modern architecture of the bow shaped bowls with the rich traditional culture. There is a rice terrace at the resort where you can experience planting and harvesting rice with local farmers. Organic vegetables are grown on the farm, and you can also enjoy dishes made from them. The energetic resort of Ubud consists of 60 suites and villas, with sophisticated furniture and traditional Balinese handicrafts, a restaurant and pool merges with nature, a place of healing. It is another world. You can experience a variety of unique activities at Four Seasons Sayan such as yoga, meditation and tours to unexplored areas around Ubud. Kura-Kura Hotel provide hotel with benefit for those who want to find hotels in Ubud area and help for hotel reservation including Four Seasons Resort Bali at Sayan.
Most Popular Facilities
Souvenir Shop

Swimming Pool

WiFi connection

Cafe Restaurant

Beauty Spa

Fitness/GYM
Hotel Meister Features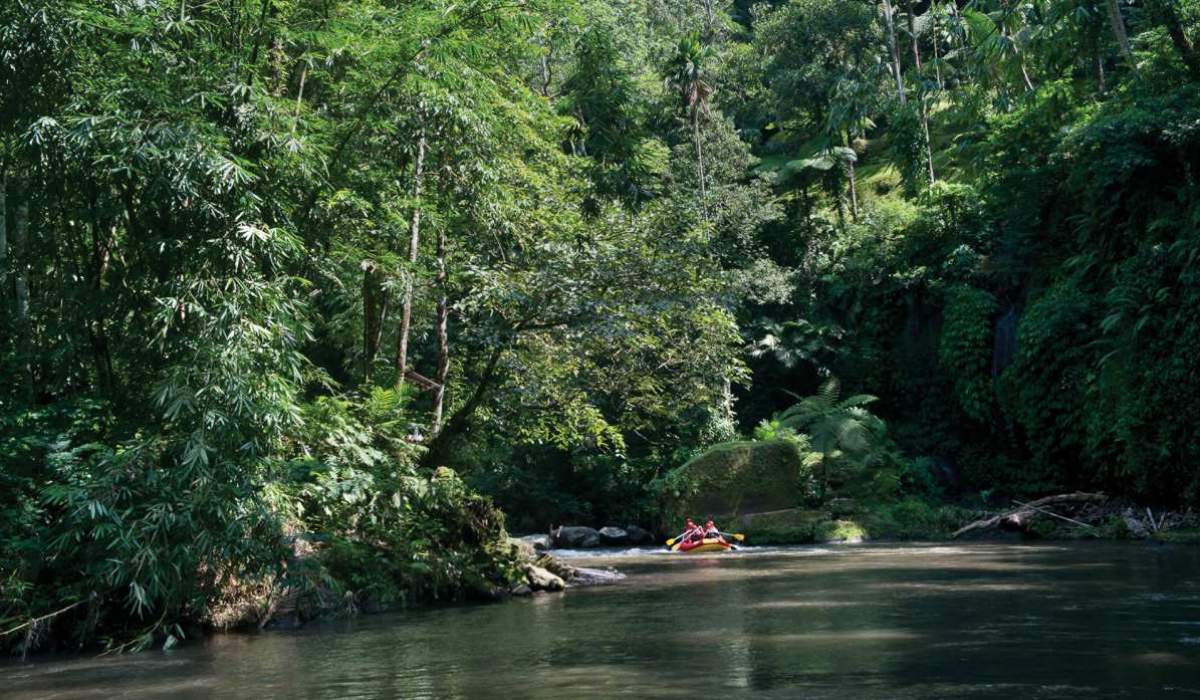 Connecting Bali and Tourists
You can connect with the creativity and spirit of Balinese rural life by visiting and experiencing going to Balinese temples and ceremonies. Take part in a number of activities, including a farmer's day experience, private rafting on the Ayung River and a cycling tour through the village. The Kids Club offers a variety of creative programs, and a wide variety of activities to increase children's curiosity and creativity, such as sports, adventure games and drawing techniques.
---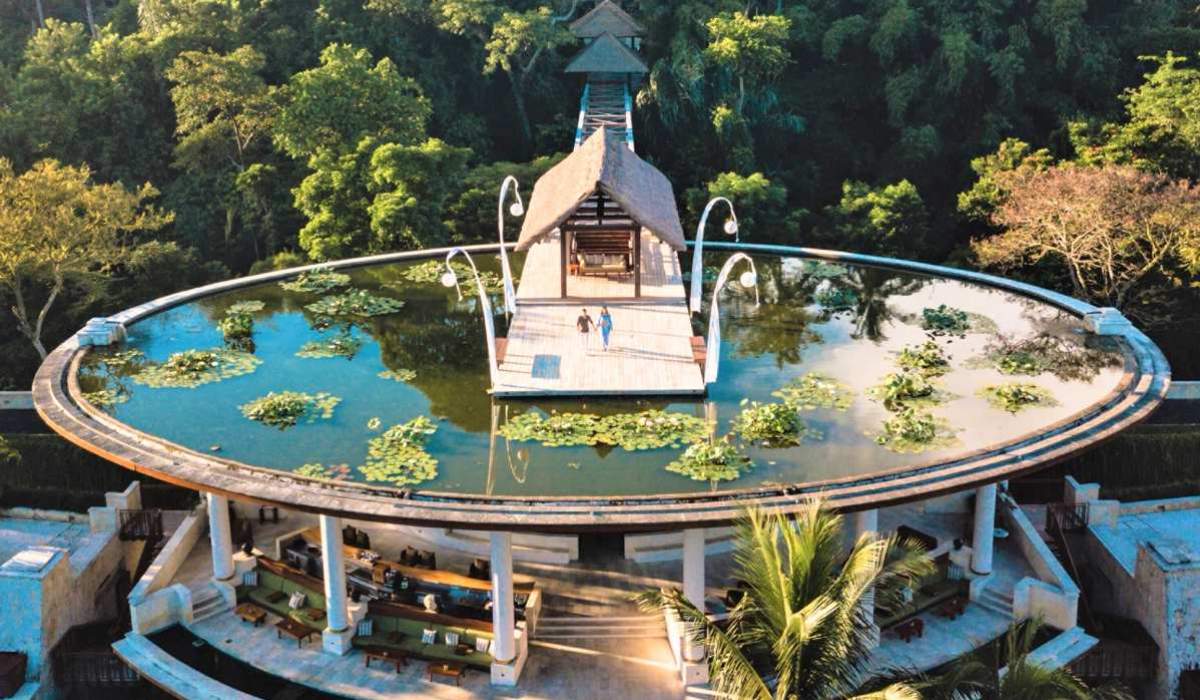 A Welcoming Masterpiece
When you arrive at the resort's arrival lobby, you will find a tropical forest where you cannot imagine what lies ahead. Crossing the suspension bridge and you will find a lotus pond floating in the air. Even if you are overwhelmed by the access and the views so far, it will give you a sense of pleasure as you step into the resort. Descending from the lotus pond, you will find a beautiful space that will make your heart even more exciting. I was impressed by this special "welcome." This lotus pond is a trademark of Four Seasons Sayan, and you can enjoy yoga, meditation and romantic dinners while feeling the Ayung River facing the forest and sky.
---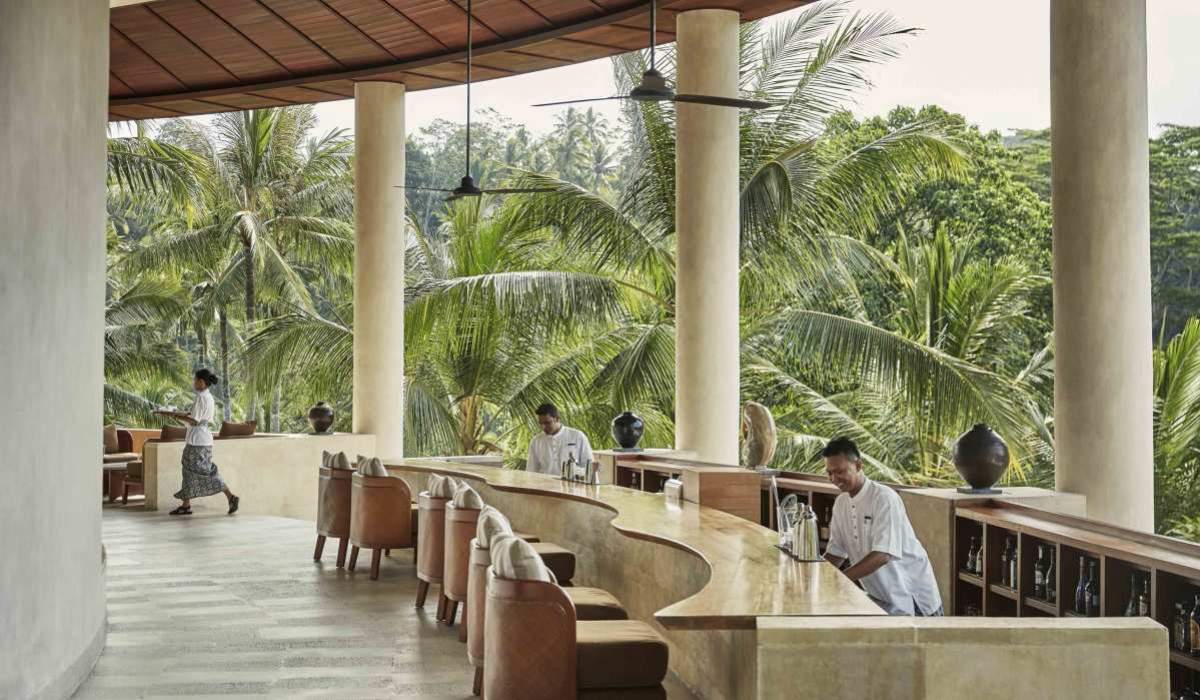 At The Same Height As Coconut Trees
Due to the resort structure, the lobby bar and restaurant Ayung Terrace is as high as palm trees and feels very close to the forest. While enjoying the distance, you can reach to the dense of coconut leaves and trees and you can enjoy the sound of the water flowing from the Ayung River. Casual dining with birds chirping and maximum comfort in a luxurious atmosphere.
Room Reservation
Please select number of rooms from room list
Four Seasons Resort Bali at Sayan - Ubud Offer
Restaurant Information
《RIVERSIDE CAFE》European cuisine
The poolside restaurant on the banks of the river offers a European "Bistronomy" and contemporary grill menu under a canopy of banyan trees. Each dish is grilled to perfection in our top-of-the-range Josper charcoal oven, the master chefs' choice for the most succulent meat and seafood. Swim up to a lunch of homemade pasta, ceviche or grilled fresh fish. Or dine amidst the mystical beauty of the jungle at night.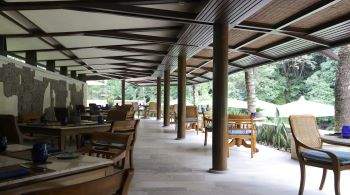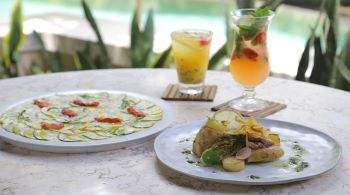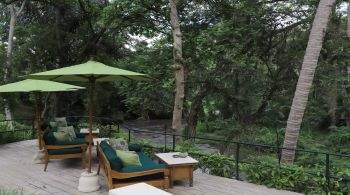 《AYUNG TERRACE》Indonesian and International cuisine


Favourite dishes from across the Indonesian archipelago are elevated to match the treetop views, as Chef Suta presents authentic flavours with a modern twist.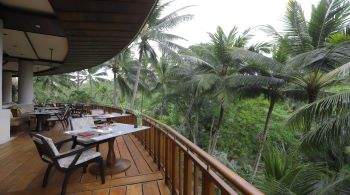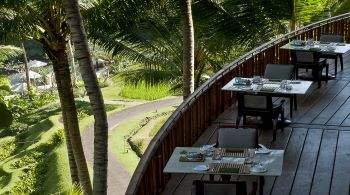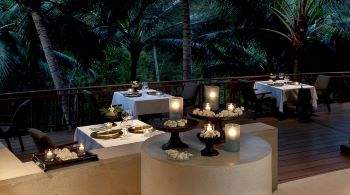 《CHEF'S TABLE At SOKASHI》 Balinese Cuisine
Authentic Balinese cuisine where you can watch the cooking process while interacting with the chef in front of you in the riverside kitchen. The sumptuous 7-course dinner offers forgotten classic recipes such as slow-roasted pork in a traditional clay oven or Bebek Betutu.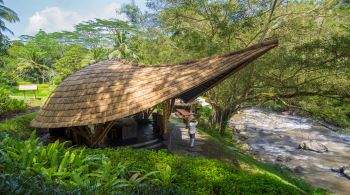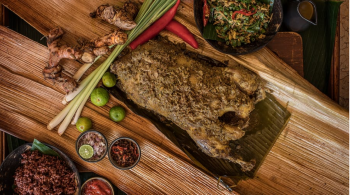 Balinese & Indonesian Restaurant << Pasar Senggol >>
Pasar Senggol means night market in Indonesian. This restaurant offers an outdoor theme. There is a stage in the middle of the area where local food is served in buffet style. Also enjoy Balinese dances including the Barong, Kecak, and Legong dances. Menu at Pasar Senggol changes every day, there are about 30 types of food a day, including pork roll and grilled fish which are traditional Balinese food. Additonal menu such as vegetables, grilled chicken, fried rice and fried noodles are available.
Spa Information
《 Sacred River Spa  》
Welcome to the Sacred River Spa at Four Seasons Resort Bali at Sayan. Immersed in lush jungle greenery in the Ayung River Valley, the Sacred River Spa is a serene and nurturing environment with a deep focus. Spiritual practices and rituals balance and restore the subtle inner energies, uniting body, mind and spirit. Offering a glimpse of what is possible when we consciously align ourselves with the Earth, they evoke a sense of awareness, wellness and being.