1/11
Beautiful beach in front of Sundara restaurant
Jimbaran, South Kuta, Badung Regency, Bali 80361 - Four Seasons Resort Bali at Jimbaran bay
Well-established restaurant
Beautiful Sunset
Retreat Atmosphere
Near Beach



Free Wifi

Avg. Download Speed

20Mbps
Hotel Introduction
Experience Indonesia's vibrant pulse and rich heritage at Four Seasons Resort Bali at Jimbaran Bay: an all-villa beach retreat alive with tradition and innovation. The iconic resort's 156 pool villas – including the fully-renovated Premier Ocean Villas and Family Premier Villas – cascade down 14 hectares of hilly headland and tropical garden sadorned with hundreds of statues and shrines.

Inspired by the layout of a Balinese village, the accommodations are arranged into seven distinct 'villages', all with customary Village Chief. Walled and utterly private, each villa's Modern Tropical design reflects the grace and beauty of Balinese architecture; the spacious bedroom opens onto the pool and separate outdoor living bale, while an al fresco shower garden complements the elegant, stylish bathroom.

In keeping with local traditions, guests are encouraged to connect to the power and purity of water: from swimming and surf lessons to ocean-sprayed meditation and signature healing rituals. On-site tours offer a deeper understanding of the daily rituals, architecture and nature of Indonesia's most magical island. Embark on a culinary journey at the state-of-the-art Cooking Academy, or take a curative journey at The Healing Village Spa where time-honoured therapies and cutting-edge treatments align to powerful effect – from Balinese massages to groundbreaking, non-invasive PURE® TDA Facials.

Sundara lures a classy crowd with eclectic Asian cuisine, beach-front daybeds and the best cocktails in Southeast Asia, while the adjacent Jimba Kids' Club ensures parents can relax poolside in the knowledge that the little ones are entertained and cared for.

Outside the Resort, trek to the summit of Mount Batur, tour the local fish markets, marvel at the world-renowned Uluwatu Temple dancers, or visit an abundance of villages and galleries – not to mention the nightlife of nearby Seminyak.
Most Popular Facilities
Japanese Staff

Souvenir Shop

Swimming Pool

WiFi connection

Beauty Spa

Fitness/GYM

Kids Club

Cafe Restaurant
Hotel Meister Features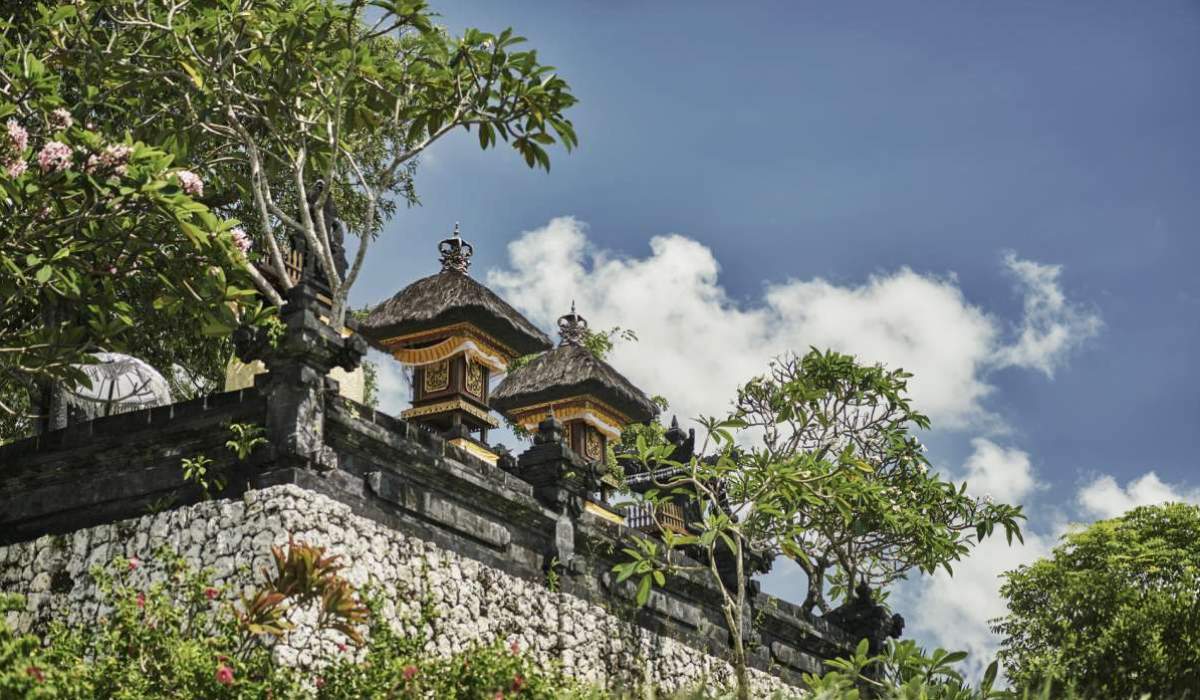 Touch of Balinese Tradition
Guided tours to the resort's shrines are held every Wednesday and Saturday. There are several temples in the resort which are also immortalized by the villagers, and you can learn about the meaning of the temple and the symbolic meaning of the reliefs during the tour. In the workshop, you can also experience and make Balinese important things such as making offerings, canang, making mochi confectionery and learning Balinese dance. Please come and experience Balinese traditions and culture during your stay.
---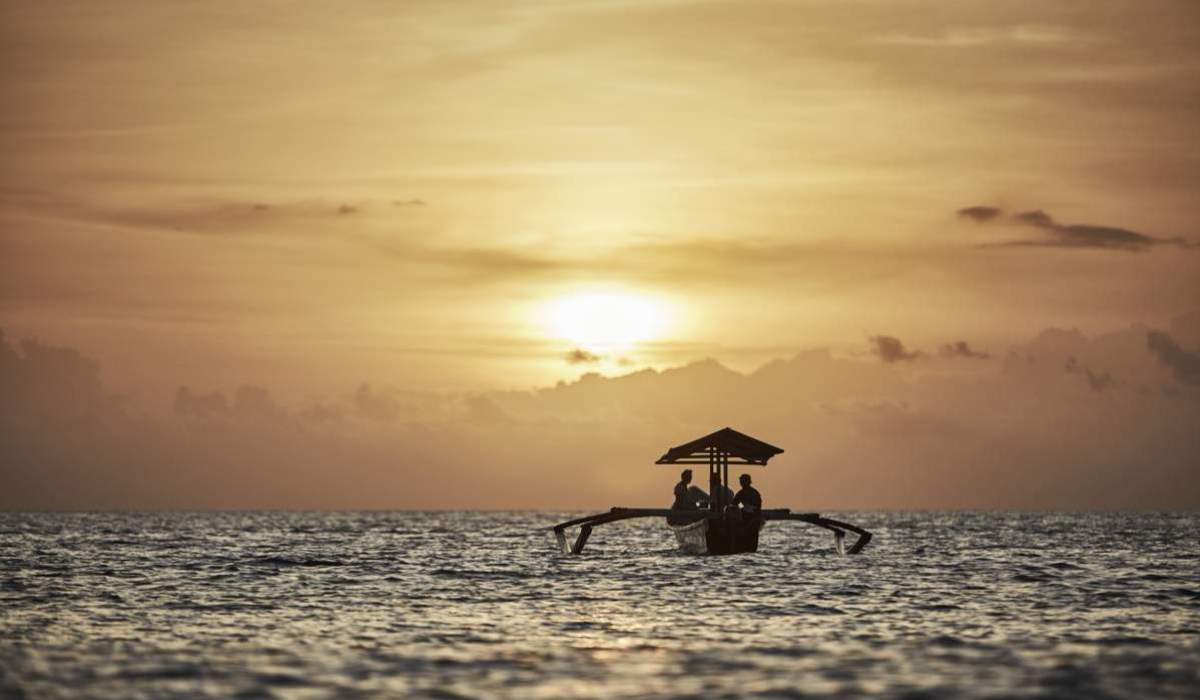 Sunset Time Every Day
Jimbaran Beach is a rural beach where the sunsets are gorgeous and the locals gather.
The sunset seen from every part of the resort is one of everyday pleasures. Relaxing in the villa's gazebo, cocktails on the Sundara Restaurant deck from the infinity pool, and one step out of the resort and walking along the beach are all unique things at Four Seasons. It will be unforgettable sunset time.
---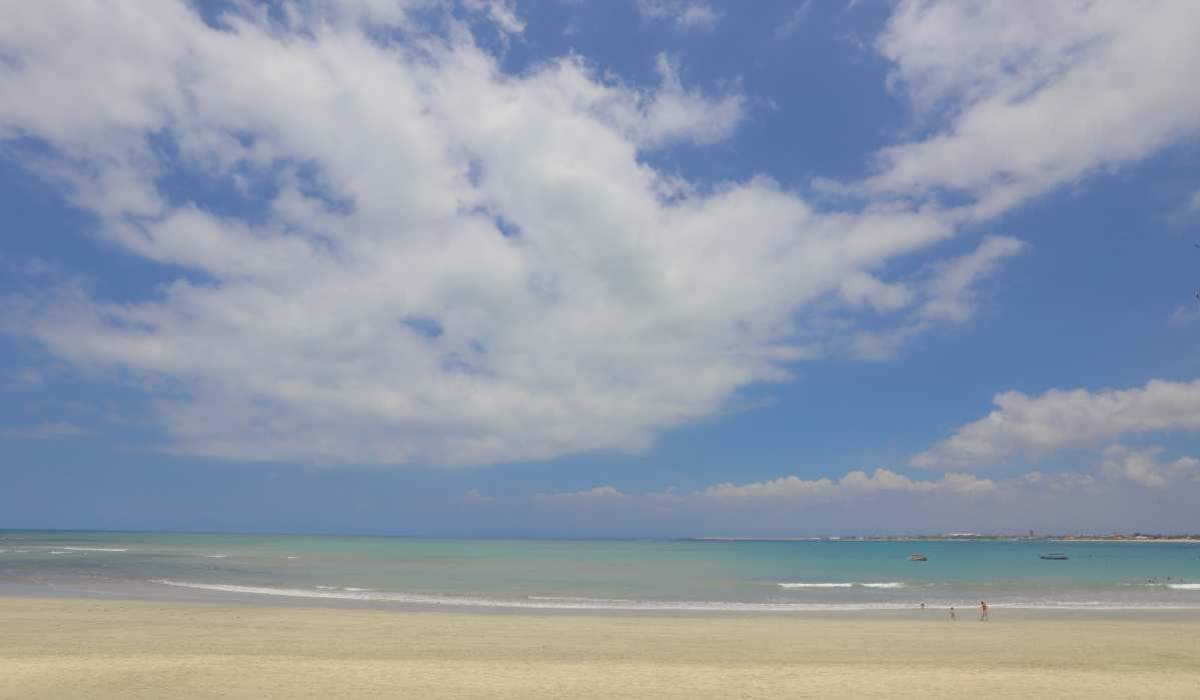 Happyness For Children
The resort is suitable for honeymooners, couples as well as for families with children.
With a private pool, air-conditioned playroom and plenty of activity programs, Jimba Kids Club is right on the beach. Resort facilities have no age restrictions and there are lots of good points for families.
Room Reservation
Please select number of rooms from room list
Four Seasons Resort Bali at Jimbaran bay - Jimbaran Offer
Restaurant Information
《 Sundara 》 International and seafood cuisine
Inspired by Jimbaran's traditional seafood BBQ culture, our nightly BBQ menu presents bold, fresh flavours to complement the fiery sunset views. Each dish – even dessert – is layered with an element of wood, smoke or fire. By day, a lighter beach club selection is perfect for all-day relaxation by Bali's longest beachfront pool.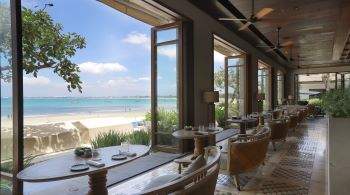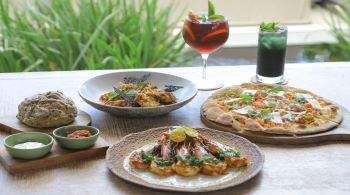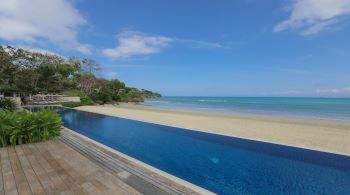 《 Taman Wantilan 》 International cuisine
Celebrate the craftsmanship of our culinary team at the new Taman Wantilan, where our brigade of specialty chefs cook up a spread of Asian and Western cuisine at open show kitchens. Experience interactive dining with made-to-order dishes delivered directly to your table.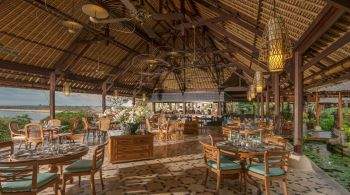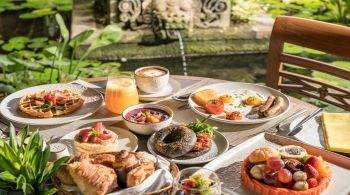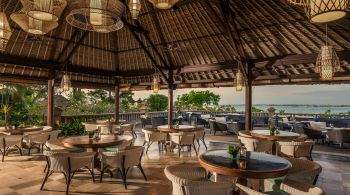 << Pool Terrace Cafe >>
An open-air cafe in a relaxed atmosphere with an infinity pool in the center of the resort. Enjoy snacks, sandwiches and burgers as well as tropical juices and fresh beer.
《 ALU 》 International Healthy cuisine
Our casual, poolside cafe serves a healthy menu created in collaboration with nutritionist Miles Price of LIFE Clinic, Hong Kong. Enjoy a selection of Buddha bowls, poke, street food and platters, alongside cheat day treats. In the evening, Alu can be transformed into a private venue for events.
《 Jala 》 Balinese cuisine
Watch our Jala team cook their favourite local recipes fresh-to-order at a nightly à la carte dinner. The seafood-themed menu is inspired by and sourced from Jimbaran's famous fish markets. Savour dishes such as fresh fish cooked pepes-style, seafood salad and grilled prawns in Balinese spices. Local flavours, cosy ambience, and premium quality define this Balinese dining experience.
Spa Information
《 The Healing Village Spa 》
Welcome to the Healing Village Spa at Four Seasons Bali at Jimbaran Bay – a wellness portal where ancient wisdom illuminates modern ways and physical treatments inspire metaphysical transformations. Submit to Bali's magic and our team of healers' expertise via rituals that honour timeless traditions and emerging spiritual awareness.